M1 Internet APN Settings for Dell Venue 8 Pro
M1 Internet settings
To configure your
Dell Venue 8 Pro
to use M1 Internet in Singapore follow below steps.
Press Start button and then open the menu using the button on left top.
Select Settings, Network & Internet and then Cellular
Click on your network name on right hand side.
Click Advanced options
Click Add an Internet APN and enter information as below.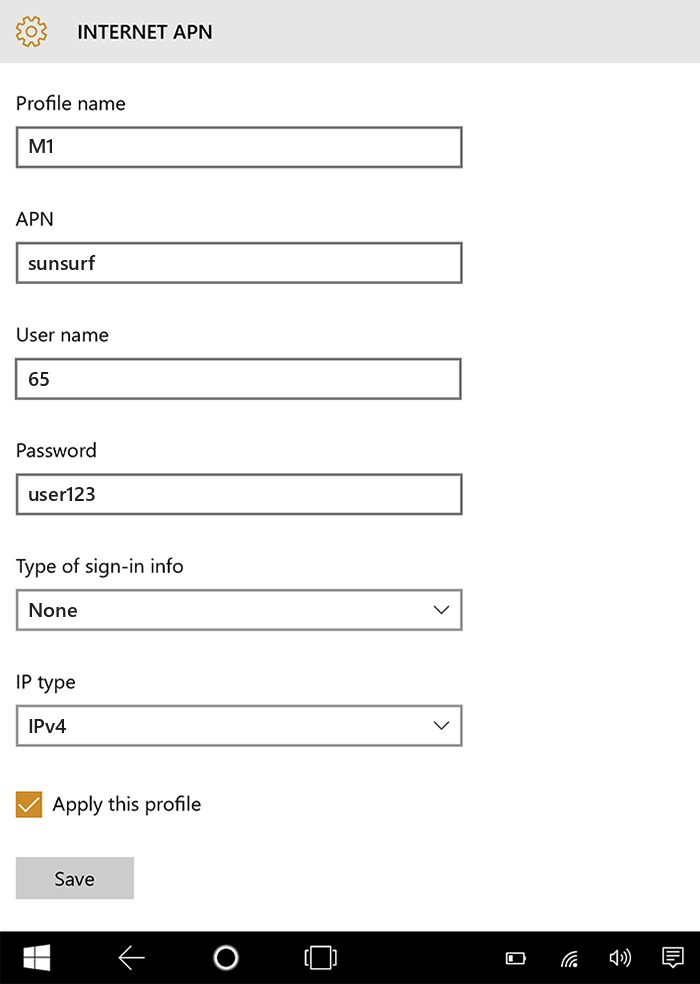 Profile name: M1 Internet
APN: sunsurf
User name: 65
Password: user123
Type of sign-in-info:
IP type:

Check Apply this profile and press Save.
Not successful? Check APN settings configuration guide for Singapore
Leave feedback or ask a question...
M1 further settings to try for Dell Venue 8 Pro
Replace above values in your Venue 8 Pro with values in each setting below for M1 alternative settings that could be compatible with your device.
☄ M1 APN settings alternation 1 for Venue 8 Pro

- M1 WAP
| | |
| --- | --- |
| APN | miworld |
| Authentication type | PAP |
See also: M1 MMS settings for Dell Venue 8 Pro
Choose a different phone modal...
Dell Venue 8 Pro variants and supported network frequencies...
Dell Venue 8 Pro
| | |
| --- | --- |
| Technologies supported | 2G, 3G, 4G LTE |
| Mobile data | HSPA, LTE |
| SIM | Micro-SIM |
| WLAN | Wi-Fi 802.11 a/b/g/n/ac |
| Bluetooth | v4.0 |
| NFC | Yes |
| Operating System | Windows Phone 10tab Windows 10 tab |
| Screen | Full HD 1080p IPS display (8 inches) 1920x1200 |
| Processor | 2.24 GHz Intel Atom Z8500 |
| RAM | 4 GB |
| Internal memory | 64 GB |
| Camera | 5 MP |
| Front camera | 2 MP |
See all specifications for Dell Venue 8 Pro
APN settings available for Dell Venue 8 Pro in Singapore
Post Reply
Internet settings for other phone models